Address
101 West Broadway
St. Peter,
MN
56082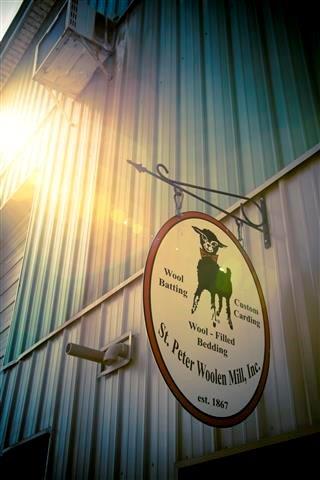 Luxurious wool-filled comforters, mattress toppers and pillows. Traditional wool bedding made with an emphasis on renewability and sustainability.
Wool products. We manufacture for wholesale our own line of wool-filled comforters, mattress pads/toppers and pillows called "Nature's Comfort." We also make the same products for wholesale with a private label for many stores and distributors. See our list of retailers below to find one near you.
Wool washing. We wash greasy raw wool and card into batting for use in comforters, mattress toppers and pillows. We also wash and card natural colored and dyed wools for custom hand spinning, needle felting and other crafting projects.
Wool tying. We can either hand tie or machine stitch these coverings on to the batting. Many of our customers have their batting covered in cheesecloth, tied about every 12 inches to stabilize the batting, and returned to them so they can tie their own comforter.
Wool re-carding. Bring in or send your old wool-filled comforter, mattress topper or pillow and we'll re-card the wool, putting a new covering on so that it's ready to use for another 10-20-30 year
Claim this Listing
Is this your listing? Use the form below to log in and claim it.