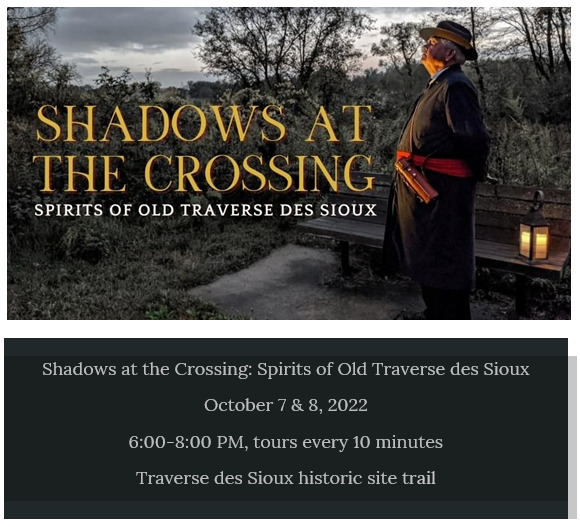 To Purchase Tickets – Click Here
Journey back more than 160 years to meet some of the pioneer citizens of Traverse des Sioux. On a lantern-guided walk of the old townsite, meet spirits along the way, telling stories about their lives and experiences at this place.
Meet hotelier Bernard Bornemann, General Henry Sibley, pioneer woman Jennie Pettijohn Tyler, the Presbyterian Church minister, the Reverend Stephen Riggs, and Mary Nancy Winona Wakaŋtaŋkawiŋ Eastman, the Great Spirit Woman.
Shadows at the Crossing is appropriate for children ages 8 and older.
Tickets are $10 for adults, $5 for children ages 8+, and $20 for families.
Nicollet County and Minnesota Historical Societies members receive a 20% discount.
Tours begin at 6:00 p.m., with the last departing at 8:00 p.m. Space is limited. Advanced ticket purchases are recommended. Walk-ups will be accommodated if space is available.