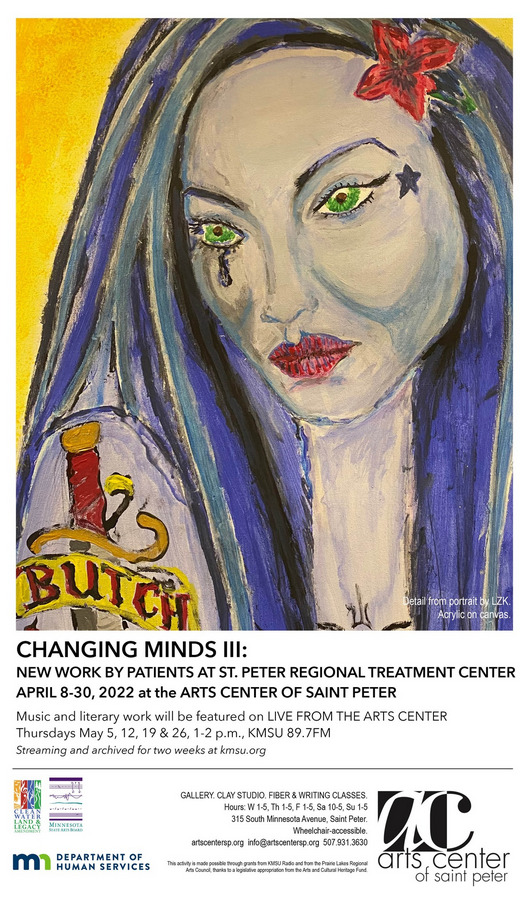 CHANGING MINDS III: NEW WORK BY PATIENTS AT ST. PETER REGIONAL TREATMENT CENTER
More than 200 works of visual and literary art comprise Changing Minds III: New Work by Patients at St. Peter Regional Treatment Center, on display April 8-30, 2022 at the Arts Center of St. Peter.
Originally planned for the spring of 2020, the exhibition is the third biennial public
show of patient artwork, created both individually and in group settings on the
campus of SPRTC, which is operated by the Minnesota Department of Human
Services.
"The variety and quality is always impressive, but especially this time, when the artists had to get exceptionally resourceful about tools, materials, and studio space," said Arts Center Executive Director Ann Rosenquist Fee, who, together with SPRTC recreation therapy staff, hosted virtual weekly discussions for patients to discuss work in progress.
No reception is planned at this time, but the Arts Center is open to the public five days per week: Wednesdays-Fridays 1:00-5:00 p.m., Saturday 10:00 a.m. – 5:00 p.m., and Sundays 1:00-5:00 p.m. The majority of the art is for sale, with 70 percent of proceeds going directly to the artists, and 30 percent to the Arts Center.
Changing Minds III will be discussed in a series of broadcasts every Thursday in May from 1-2 p.m. on KMSU 89.7FM as the focus of Live from the Arts Center of Saint Peter (streaming and archived for two weeks at
kmsu.org
).
This activity is made possible through grants the Prairie Lakes Regional Arts Council and the Minnesota State Arts Board, thanks to a legislative appropriation from the Arts and Cultural Heritage Fund.